Have a question? Search the internet and you will find an answer. Search long enough, and you can even find the answer you want. While that's great (if you live in an echo chamber), it's no help if you don't know which answer you're looking for. In that case, the internet will provide you with a bevy of contradictory answers, leaving you to sort it all out for yourself. Square One.
The Quandary: Issues with Ink
The other day I became peevish when the letter I'd written got smudged (I write almost exclusively with a fountain pen). How could I keep the ink from smudging? I wanted an answer. I thought back to all those movies where the actor pulls out a piece of hand-laid paper, scritches a few lines with a feathered quill*, dashes some sand across the page to blot the ink, knocks the sand off onto the floor, seals the note with wax and signet, and then hands it to a waiting messenger with instructions to place it directly into the hands of [insert name of influential character here]. You know, the Elizabethan equivalent of "Is this a secure line?"
What is that stuff they sprinkled across the page? How did it work? Did it work? And if so, where can I get some?
Burning questions.
Naturally, I hit the 'net to search for answers. Naturally, I found plenty.
The Answers: Contradictory Camps
As with most Things Internet, the answers I found separated into two categories, both of which claimed to be the only truth, both of which stated that everyone in the opposite camp was a yammering thumb-sucker who, blinded by misinformation, couldn't see the facts for the lies. Frakking sheeple.
As with most Things Real, however, I found that the answer is not binary. Rather, it is a combination of the answers provided by both camps. Again, in standard internet style, instead of combining information for a win-win, both camps went for an I-win-you-lose outcome, which means everything ends up in a lose-lose tie. Bloody typical.
This left me having to sort through all of it myself. It was up to me to evaluate the two camps' positions which, obviously, meant I had to do my own research. My own actual, physical research.
If you're interested in my results, read on. If not, here's a picture of "the cutest kitten on the internet."
Have a nice day.
It all comes down to those big salt-shaker-thingies that everyone from medieval monks to Victorian scribblers had close to hand, right next to their inkpot. To find them on eBay, search for "ink sanders" or "pounce pots." Yeah. Pounce. I know, I know…why turn another perfectly good verb into an unrelated noun? Screw you, English.
But what was in those shakers? Was it sand? How were they used? What did they do?
Camp Sand: the Sand is Sand
One camp holds with the common belief that what Ye Olde Wryters had in those "sanders" was actual sand. It's why they're called sanders, for frak's sake. These folks hold that, just like in almost every movie that has a quill pen as a prop, writers would dip the nib, write on the paper, pick up the sander, and sprinkle the page with sand. The sand would absorb the excess ink, after which you could dump the sand and fold the paper, limiting smears and smudges.
This view, that the sand was actually sand, is supported by 19th century writings describing the extensive use of sand, including some early American writers who assure us that the best sand comes from the black beaches of Lake George in upstate New York.
A few sites hold that it wasn't really sand that was used, but a powder of gum sandarac (a resin from the sandarac tree) which absorbed the ink. The word sandarac was shortened to sand, and that's why a sander is called a sander. It wasn't cheap stuff, though, which is why a lot of sanders have a bowl-like top (see picture, above). You could tip the paper over the concavity, and the excess sandarac could be captured and reused.
Sand or sandarac, it was something that was applied after your ink hit the page.
Camp Pounce: the Sand isn't Sand
The second camp states, without reservation, that sand was never actually used. After all (they quip), if sand could absorb liquid the beaches would blot up the ocean (a silly claim, but their point is that sand is made of silica and that silica is not absorbent). Advocates of this view then double-down, stating that not only did quill-pen users never sprinkle the page with sand, they never did it after they were done writing. What they did do was sprinkle the page before they began writing, as a way of preparing the paper for taking ink, using a substance called "pounce" — a bastardization of the French for "pumice" (ponce) — which is a mixture of pulverized stone and cuttlefish bone.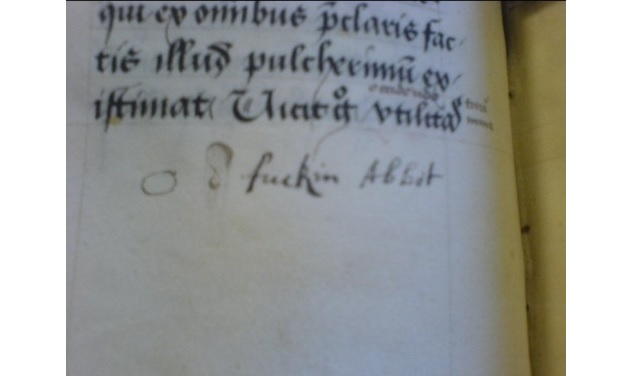 According to these folks, a piece of Ye Olde Paper wasn't "sized" as our modern paper is. Sizing is also used in fabrics (where it's known as "starching"), to stiffen them and make them crisp to the touch. Unsized paper is more absorbent than sized paper and, back in the day, writing on it led to misshapen letters, "spider" trails, and ink blots. When you're a medieval monk copying a manuscript, you don't want the abbot to see a page filled with blots and spider trails. Trust me on this one.
You could either sprinkle this pounce over the page, or tie some up in a piece of muslin which you'd then tap on the paper and spread out evenly. This pounce effectively made the paper less absorbent, so you could make all those thin lines and sharp serifs without the ink bleeding into illegibility.
The only commonality in these camps is found in the faction of Camp Pounce that says gum sandarac was one of the best materials with which to "pounce" a page. This is supported by the fact that a lot of modern-day calligraphers use gum sandarac to pounce their paper before beginning their work.
No matter what you use, though, in Camp Pounce, you use it before you write.
The Experiments: Practical Application
Both camps were so adamant in their respective stances, and both were so willfully blind to the evidence provided by the other side, that it rapidly became clear that the truth lay somewhere in between, like the intersection of a Venn diagram. The only logical course of action (it seemed to me, but then, I'm odd) was to try out the various materials and see for myself.
Experiment One: Pounce
First, I got some pounce (not an easy task, today). I got three types of material, all of which were reportedly used as pounce: powdered stone, powdered cuttlefish bone, and gum sandarac. (It turns out that powdered cuttlefish bone is hard to find in a pure state, so I purchased an actual cuttlefish bone — aka cuttlebone, a common pet supply for keepers of budgies and parrots — which I ground to powder on a rasp.)
Then I got some hand-laid, unsized paper that was laying about (did I mention that I'm fairly odd?), picked an old fountain pen that wrote a bit "wet" (i.e., it wasn't stingy with the ink) and began some tests.
I started with a control. While my paper didn't "spider" much, each stroke of the pen bled. A lot. The hand-laid linen/cotton paper took the ink unevenly, rejecting it on some strokes while taking everything the pen could give on others.
Though my pouncing method mimicked those described on calligraphy and fountain-pen sites, pouncing with any of the materials had little effect. When I increased the amount of material used and upped the thoroughness as I massaged into the paper, there was a marked reduction of bleeding.
Result: Pouncing does work, and sandarac is the best material for pouncing, reducing bleed by about 75%. Regardless of the material, though, sprinkling it on the paper does nothing unless it's followed by a thorough rub-in that spreads it out. Thus (and wholly in my opinion), an ink sander is really not a useful tool in applying pounce. The muslin sachet is by far the best method.
Experiment Two: Sand
Unsized paper bleeds. As a result, it doesn't smudge; all the ink has been absorbed by the paper. When paper has been sized, the ink "stands up" until the moisture evaporates. This leaves a bead of ink that will smudge and smear if you touch it while it's still wet. Manuscript-copying monks could let the written page sit to dry — such calligraphy was so painstaking, that only a little was done at a time, anyway — so sanding wasn't always required. For the lay letter-writer, though, or the legal document needing a signature, sanding was an efficient way to blot the ink and speed the drying process.
Remember how Camp Pounce laughs at the idea of using sand to absorb excess ink? They're right, of course, in that sand is primarily a silica and is not, therefore, absorbent, but what they miss is that these silica granules are rough, jagged, and full of crevices and crannies. As any sand-castle builder knows, sand gloms onto water by capillary action and holds it by surface tension. It's not absorption, per se, but it does the trick.
For candidates, I chose the same pounce-test materials as above (powdered stone, powdered cuttlefish bone, and gum sandarac), and to test various types of sand I picked so-called "craft" sand (sand prepared for arts and crafts), regular playground sand, and pulverized dolomite (because hey, I had some down in the garage).
For this test, I wanted modern, sized paper, so I selected sheets from a notebook made by Life Co., a Japanese paper manufacturer. This handmade paper is a relatively heavy bond, and, though of excellent quality, it is notorious (in this house, anyway) for smudging long after the ink has been put down.
Each test was to write three lines, "sand" the lines with material, then knock off the excess material and see if it smudged. If excess material remained on the page, I tried wiping it off with a soft tissue and smudge-testing again.
Without exception, the pounce materials were a poor choice. The reason? The granules are all way too fine and when you sand the inked page, they jump into the ink and create a mud that really wants to stay there. It won't knock off, and when you brush it off with a cloth, it smears. Not good. Even worse, checking it the next day, it would still smudge, because some ink-covered granules adhere to the page and when touch them with a finger, some of that ink follows along, creating a smudge-streak.
In contrast, most sands all did quite well. The craft sand was the exception; the granules are too large to come into consistent contact with the wet ink. The playground sand reduced smudging by about 50–60%, but had issues since it included a finer dust that behaved more like the pounce powders. The surprise was the pulverized dolomite, which, despite its powdery nature, reduced smudging by 80–90%, and did not exhibit the holdover smudge.
Summary: We Few, We Happy Few
Congratulations. If you've read this far, you're a bona fide pen nerd and are welcome to come over for a glass of wine and geek out over pens, inks, papers, and (now) pounces and sands.
As to my conclusion, I hold that pounces and sands were both used, at different times, for different purposes.
Pounces prepared manuscript paper and vellum for taking ink, "sizing" it and making it less absorbent, thus reducing bleed, allowing for finer and cleaner lettering. The best pounce material is gum sandarac, with powdered stone and/or bone performing fairly well also. The best method is to fill a muslin sachet with the material, apply it by bouncing the sachet around on the paper, and then using the now-flat-bottomed sachet to spread the material out and work it into the paper.
Sands are useful in blotting ink from a freshly written page. The best performers are actual sand, provided that they aren't ground too finely. Dolomite, though a clear winner from my tests, is not mentioned in the historical literature as a blotting agent. That won't keep me from using it, though. While I suspect sand wasn't used much by medieval copyists, its use in the legal professions and for casual correspondence is undeniable.
Anyone have access to black sand from Lake George?
k
*PS. Back in Ye Olde Days, quill pens usually had the vane of the feather cut away, leaving just the shaft. Sometimes a tuft was left at the end. And no one ever used an ostrich feather, so don't go there.
*PPS. I have a post on a semi-related topic at Lock Them Up.